BEECHCRAFT
PREMIER 1A
The Premier IA is constructed with a high-strength composite, carbon fiber/epoxy honeycomb structure fuselage. The Premier I and IA can be certified as light aircraft for operation by a single pilot. The powerplants are Williams International FJ44-2A engines.
Its cabin is nearly as wide as a Citation Excel with 3 in (76 mm) less headroom, and seating is 11.2 ft (3.4 m) long, similar to a CJ2, with a four-seat club plus two aft chairs and an enclosed, 2.3 ft (0.70 m) long aft lavatory. BOWs are usually around 8,400 lb (3,800 kg), leaving 570 lb (260 kg) for the payload at full tanks. The Premier 1A has a Mach 0.8 MMo, 451 kn (835 km/h) cruise at Flight Level 310 with a maximum Ceiling Flight Level of 410 and a 817 lb (371 kg)/h fuel burn at 424 kn (785 km/h) and midweight. It can fly four passengers over 850nm (1,574km) and two passengers at 1.100nm (2,037km) and can take off within 3,792 ft (1,156 m) at ISA temperatures and sea-level.
Origin: United Stated of America
Manufacturer: TEXTRON – Beechcraft
Configuration: Leather seats
Crew : 2 pilots
Capacity : 6 Passengers
Cruising speed: 451  knots
Engine types :  2 × Williams FJ44-2A Turbofan
Maximum Cruise Speed
454 knots / 841 km/h
Takeoff Distance
3.792 ft / 1.156m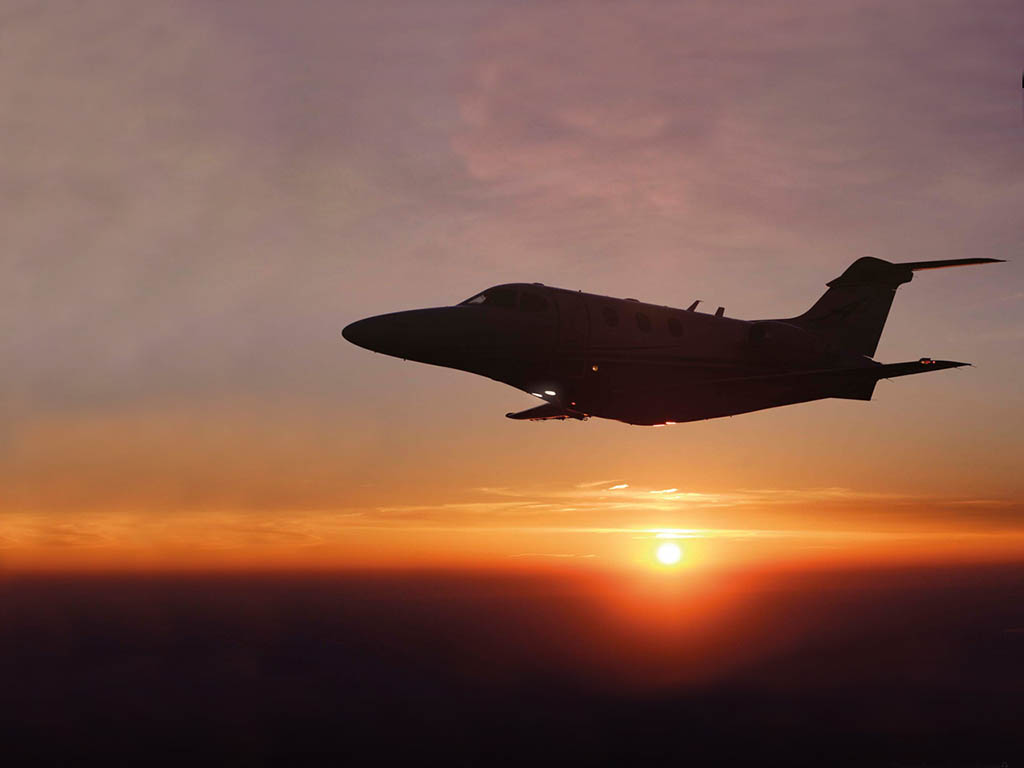 Interior
Simple and Sophisticated
An executive office at 41,000 feet. Lots of space, down wash lighting, soft leathers, contoured seats that swivel and recline,
passenger-controlled cabin temperature, a private aft lavatory and the availability of a variety of audio and video entertainment
systems — this is truly the ultimate way to travel.
Up here, anything is possible.
With three 8- by 10-inch Collins Pro Line 21™ liquid crystal displays providing instant, intuitive information, flight-critical data is easy to find. Aircraft attitude, heading, airspeed, altitude, navigation information and engine performance parameters are all brightly displayed right where pilots would expect them.
Onboard WiFi
Larger, more comfortable cabin
Larger flight deck
Superior standard avionics suite
More effective de-ice and anti-ice
More interior baggage capacity
Separate flight deck/cabin temperature control
Faster en route speed
Higher wing loading for a more comfortable ride
Specifications
Higher Standards
Dimensions
Length
46 ft 0 in (14.02 m)
Height
15 ft 4 in (4.67 m)
Wingspan
44 ft 6 in (13.56 m)
Cabin Interior
 – Height
5 ft 5 in (1.65m)
 – Width
5 ft 6 in (1.68 m)
 – Length
13 ft 6 in (4.11 m)
Baggage Capacity
 – Weight
690 lb (313 kg)
Is the Beechcraft Premier 1A ideal for you ?
Get a quote and fly anywhere in Greece and abroad !