BEECHCRAFT
SUPER KING AIR B200
Beechcraft King Air B200 Is a Twin-engine Turboprop fixed wing aircraft with two Pratt & Whitney PT6A-42 engines and four blade propellers. It is the next level model of B200 with bigger dimensions and performance keeping all the fundamental characteristics of Beechcraft C90 it is regarded to be the most cost efficient pressurized turboprop at its category for distance missions, even though its maximum range is 1,580 nm (app. 2,900km ) with a maximum speed of 290kn at the max altitude of 35,000 ft. It is a glass cockpit aircraft armed with the latest technologies of communication and Navigation equipment for IFR (day and night) missions. Its short runway capabilities makes it Ideal for small airports that Jet aircraft can not land. It is used either to cover distances that exceed helicopters and C90 capabilities and/or cost efficiency or for Night Operations.
Origin: United Stated of America
Manufacturer: TEXTRON – Beechcraft
Configuration: Leather seats
Crew : 2 pilots
Capacity : 7 Passengers
Cruising speed: 283 knots
Engine types : 2X Pratt & Whitney PT6A-42
Maximum Cruise Speed
280 knots / 520 km/s
Takeoff Distance
2.111 ft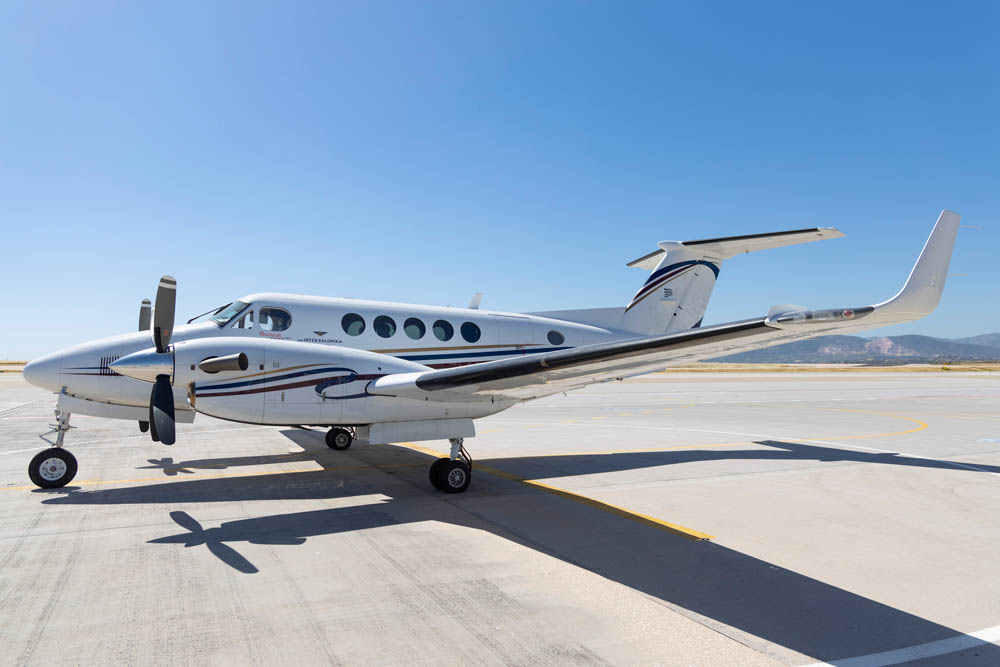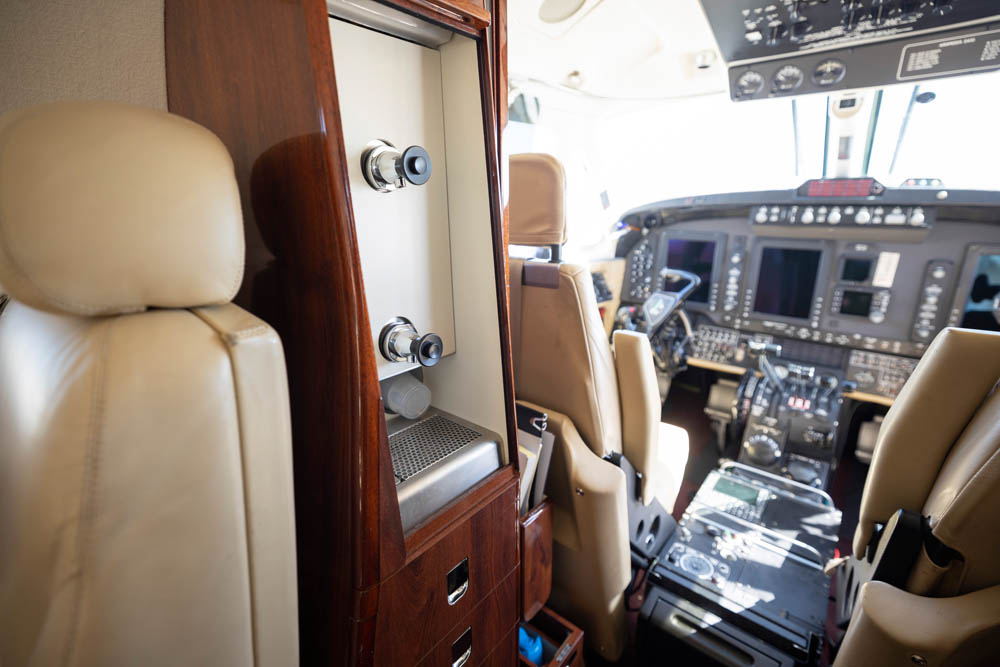 Interior
Simple and Sophisticated
The legendary comfort of the King Air turboprop square-oval interior offers generous head and shoulder room, unmatched by conventional cabin cross sections. The King Air 200 turboprop interior is furnished with finely crafted seats that are able to laterally track, swivel and recline.
Take Control with Advanced Technology
The B200 turboprop standard IS&S THRUSTSENSE Autothrottle system reduces pilot workload through all phases of flight and features protections for engine over-temp and over-torque scenarios.
Now including digital pressurization controlled through the Flight Management System, cabin pressure manual control is a thing of the past.
This latest edition also features standard multi-scan weather radar providing fully automated, optimal scans showing short, mid, and far ranging weather.
The B200 turboprop features optional SiriusXM weather adding greater capability to areas outside the continental U.S., including Canada and Puerto Rico.
IS&S THRUSTSENSE Autothrottle System
Digital Pressurization
Collins Aerospace Pro Line Fusion Avionics Suite
Three 14-inch touchscreen displays
Synthetic Vision
Graphical Flight Planning
Engine Indicating and Crew Alerting System (EICAS)
Dual Flight Management System (FMS)
Multi-scan Weather Radar System (WXR)
Integrated Terrain Awareness and Warning System (iTAWS)
Traffic Alert and Collision Avoidance (TCAS I)
Automatic Flight Guidance System (AFGS)
Dual Navigation and Communication Radios
Specifications
Higher Standards
Dimensions
Length
43 ft 10 in (13.4 m)
Height
14 ft 10 in (4.5 m)
Wingspan
57 ft 11 in (17.65 m)
Wing Area
310 sq ft (28.8 sq m)
Wheelbase
14 ft 11 in (4.55 m)
Tread
17 ft 2 in (5.23 m)
Cabin Interior
 – Height
57 in (1.4m)
 – Width
54 in (1.37 m)
 – Length
16 ft 8 in (5.1 m)
Baggage Capacity
 – Weight
550 lb (249 kg)
 – Volume
55.3 cu ft (1.57 cu m)
Is the King Air B200 ideal for you ?
Get a quote and fly anywhere in Greece and abroad !