BEECHCRAFT
KING AIR C90B
Beechcraft King Air C90B Is a Twin-engine Turboprop fixed wing aircraft with two Pratt & Whitney PT6A-21 engines and five blade Propellers. It is regarded to be the most cost efficient pressurized turboprop for low to mid distance missions, even though its maximum range is 940 nm (app. 1,700km ) with a maximum speed of 250kn at the max altitude of 30,000 ft. Its five blade propellers down grade the level of internal noise by 30% . It is a glass cockpit aircraft armed with the latest technologies of communication and Navigation equipment for IFR (day and night) missions. Its short runway capabilities makes it Ideal for small airports that Jet aircraft can not land. It is used either to cover distances that exceed helicopters capabilities and/or cost efficiency or for Night Operations. C90B with an aerodynamically streamlined design and its two engines can take you anywhere with safety, speed and comfort. A leather cabin interior with reclining seats and table amenities, combined with an adequate selling high provide a comfortable and smooth flight.
Origin: United Stated of America
Manufacturer: TEXTRON – Beechcraft
Configuration: Leather seats
Crew : 2 pilots
Capacity : 5-6 Passengers
Cruising speed: 234 knots
Engine types : 2X Pratt & Whitney PT6A-21
Maximum Cruise Speed
272 ktas
Takeoff Distance
1.984 ft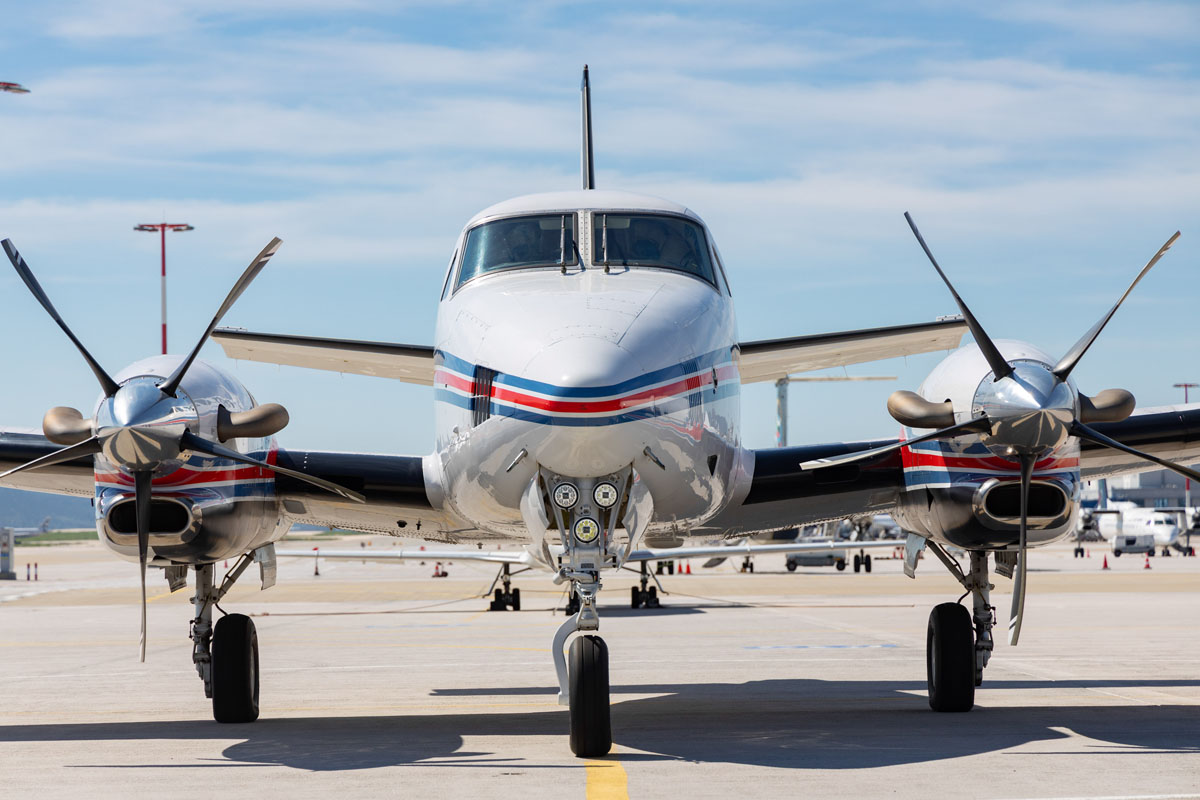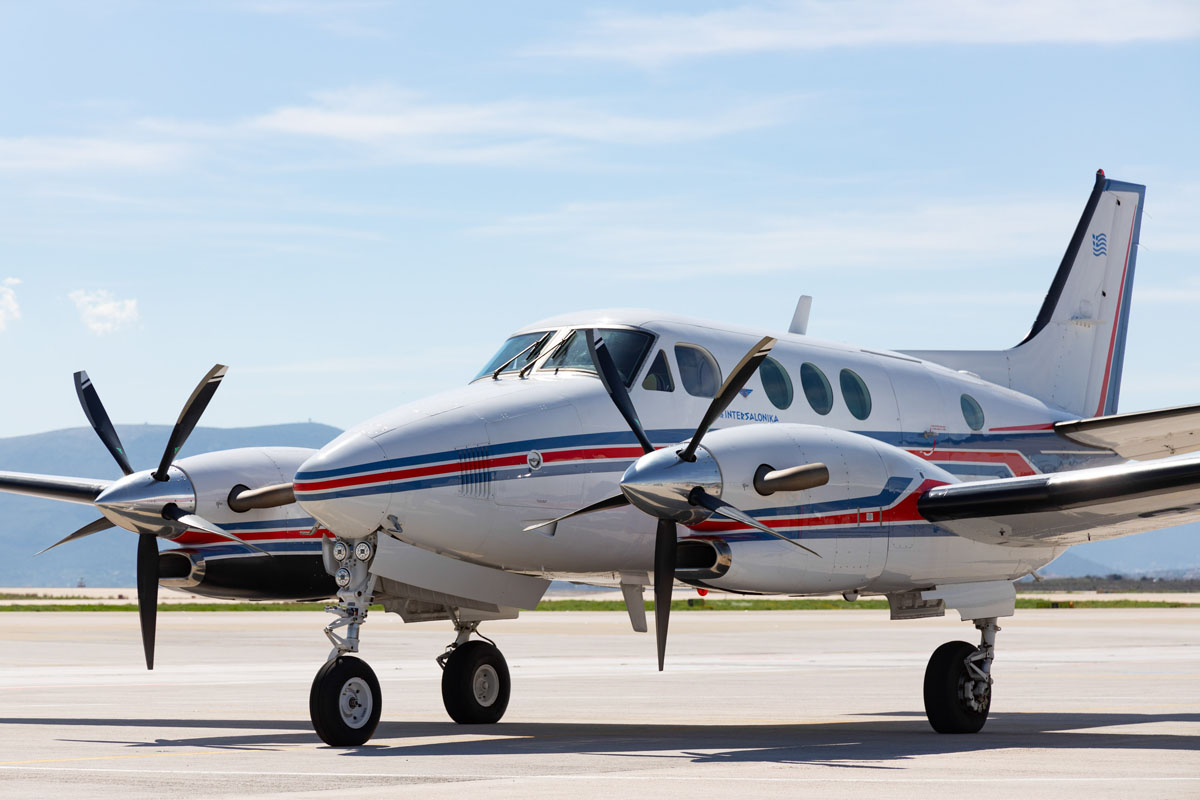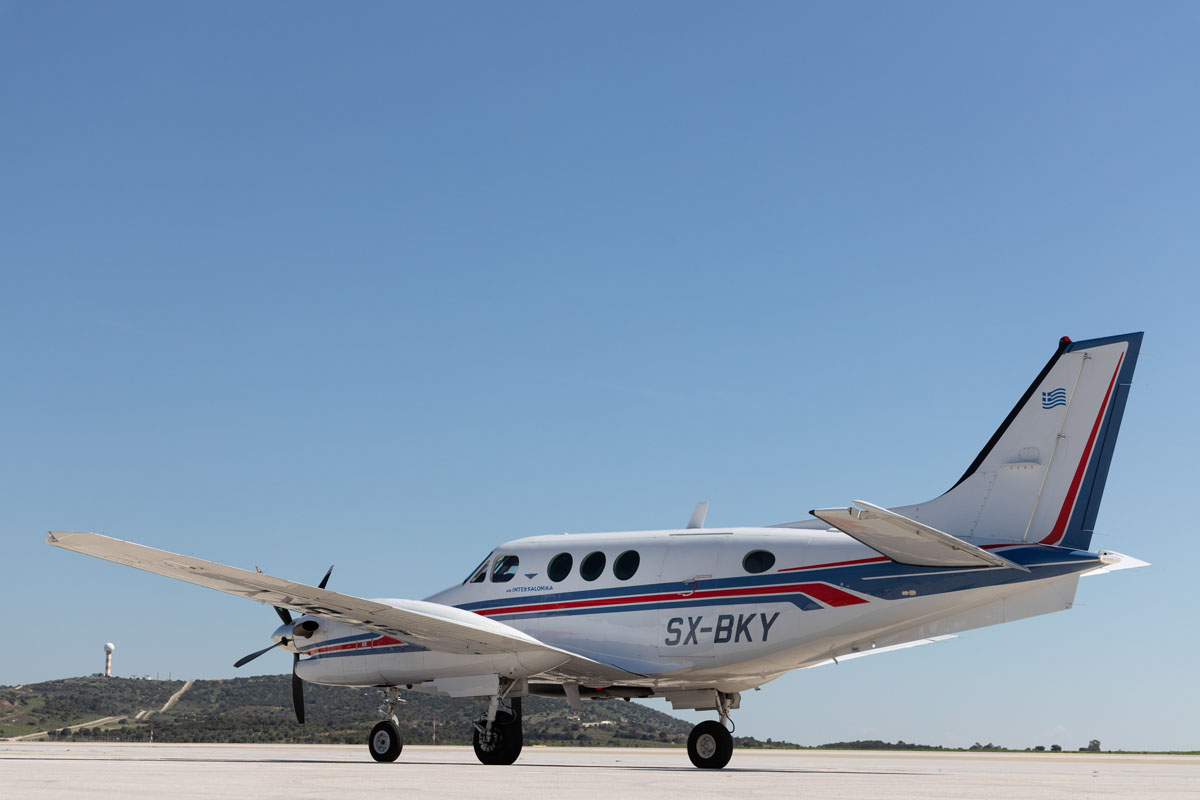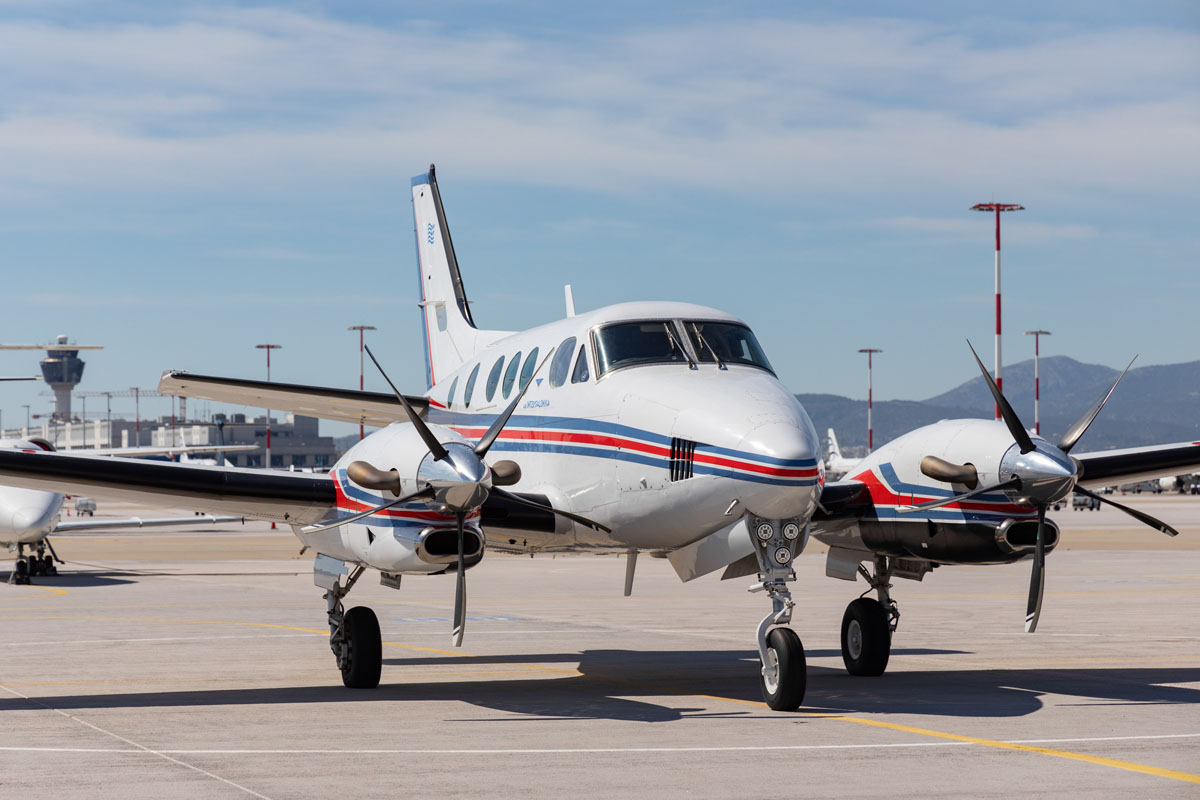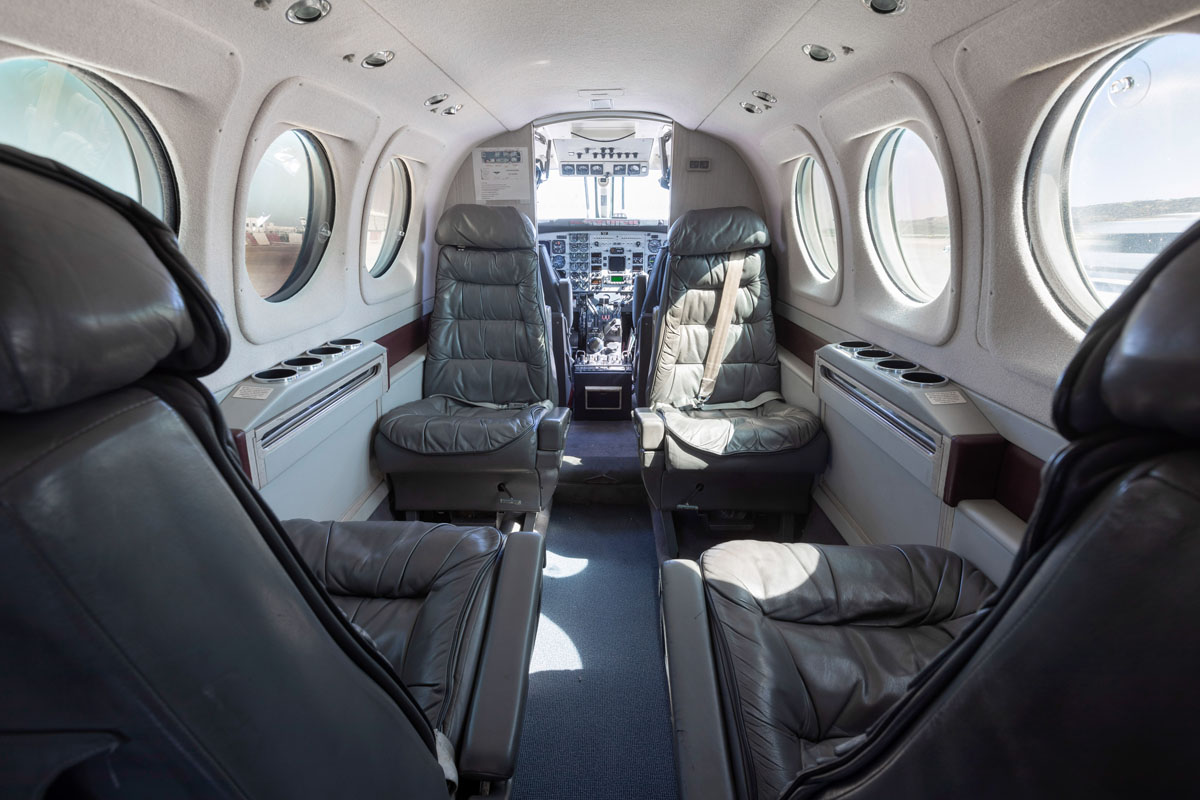 Interior
King Sized Comfort
The King Air C90B features our famed square-oval design which provides more headroom and shoulder space for every passenger. The versatile and roomy 227-cubic-foot interior is sophisticated and convenient in design. The cabin is equipped with 26 tuned vibration absorbers to keep the area quiet and comfortable.
The King Air flight deck is now
completely state of the art
The King Air C90B features Collins Aerospace Pro Line Fusion avionics. This system offers simplified single-pilot operation to reduce pilot fatigue and reduce operating economics. Pro Line Fusion modernized center console provides an alternative input method for flexible, heads-up flying.
Flight Planning Assurance
The simple icon-based interface allows you to easily transition from weather, traffic and charts, right when you need them on three 14-inch, widescreen LCDs with advanced graphics.
Intuitive graphical touchscreen flight planning
High-resolution Synthetic Vision System (SVS)
Convenient presets to reconfigure all three displays with a single touch
Full flight management system
Integrated touchscreen checklists
Open and scalable architecture for future upgrades and mandates
NextGen and precision GPS capabilities
Specifications
Fully Loaded
Dimensions
Length
35 ft 6 in (10.82 m)
Height
14 ft 3 in (4.34 m)
Wingspan
53 ft 8 in (16.36 m)
Wing Area
295 sq ft (27.41 sq m)
Wheelbase
12 ft 3 in (3.73 m)
Tread
12 ft 9 in (3.89 m)
Cabin Interior
 – Height
57 in (1.45 m)
 – Width
54 in (1.37 m)
 – Length
12 ft 7 in (3.84 m)
Baggage Capacity
 – Weight
3500 lb (159 kg)
 – Volume
48.3 cu ft (1.37 cu m)
Is the King Air C90B ideal for you ?
Get a quote and fly anywhere in Greece and abroad !