AGUSTA WESTLAND
AW109K2
The Agusta 109K2 is a twin engine, high performance,helicopter capable of transporting up to 6 passengers over short distances in a high level of comfort. This helicopters offers a spacious, unobstructed quiet cabin with wide sliding doors on each side. They have initially designed to operate at high altitude at adverse weather as SAR at the mountain line of Alps. With a combined power of more than 1500 BHP from two Safran Helicopter engines Arriel 1K1 bearing the weight of maximum 2850 kg they can perform in full load with one engine up to 16000 ft of altitude ( Aprox. 4100 meters ). The flexible and reliable helicopter Agusta 109 is ideal for a comfortable and safe flight. A109 carries up to six passengers in comfortable leather seats with an incompatible view from above mixed in for a perfect flight.The low noise and the vibration levels ensure a quite flight. Agusta 109 K2 comes with big luggage space compartment tailored to your luggage needs.
Origin : ITALY
Manufacturer : Agusta Westland
Configuration : Leather seats
Crew Capacity : 1 pilot/ 2 pilots
Passenger capacity : 6 passengers
Cruise speed : 130 ΚΝΟΤS
Engine type : SAFRAN Helicopters Engines 2x ARRIEL 1K1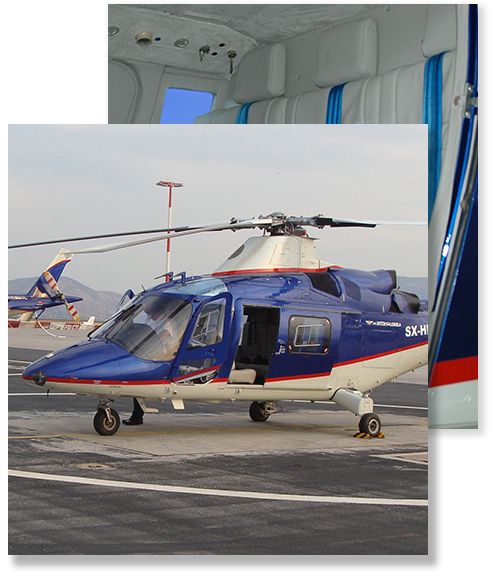 Is the A109K2 ideal for you ?
Get a quote and fly anywhere in Greece !